The Literati
Support
Become a Festival Friend
Be first in line for the world's best theatre, dance, music, visual arts, literature and more including 15% off your AF tickets
BUY MEMBERSHIP
The Literati content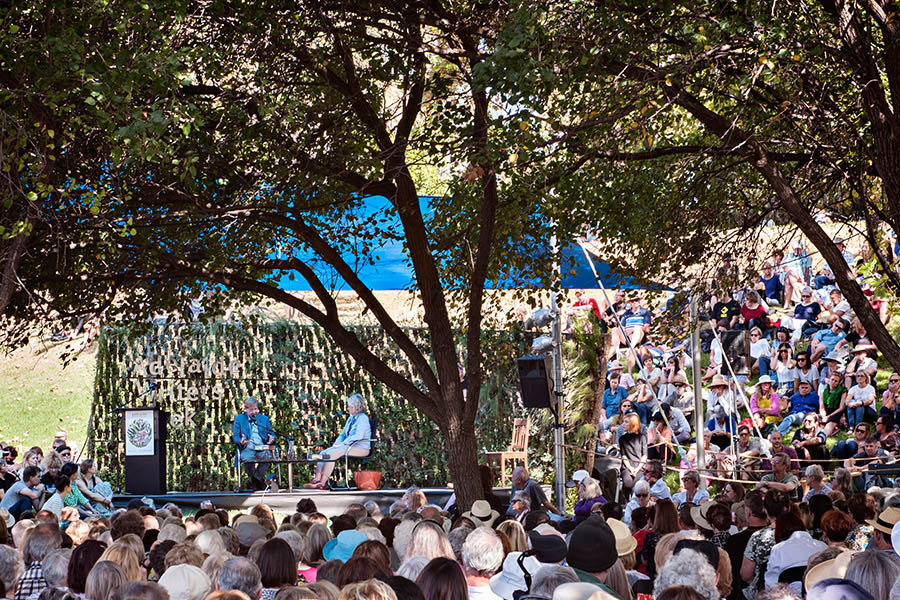 Adelaide Writers' Week is an inspiring event when authors from around the globe and passionate readers of all ages come together to share insights, thought-provoking conversations and indulge in all things literary.  But with reduced levels of government funding, rising costs, and a desire for constant improvement, we need your help. 
Donor Circles empower individuals and increase the impact of your gift. We invite you to join a group of like-minded supporters who are passionate about keeping this iconic event vibrant, inspiring and accessible to all.  Our partnership with you is integral to building on the 60-year legacy of Writers' Week for this and future generations of literature lovers.
One of most special things about Adelaide Writers' Week is its accessibility. Distinguishing it from every other major literary festival in Australia, Adelaide Writers' Week is entirely free, making it open to people of every age and background. As well as its financial accessibility, Writers' Week attendees are liberated from having to commit to an event in advance, making the festival one of exploration and discovery, where audiences can wander from stage to stage, being introduced to new authors and ideas in our famous and famously relaxed, out-door setting.
Adelaide Festival's long-term commitment to Writers' Week as a free event comes at a considerable cost. Receiving only limited direct funding and a modest contribution from book sales, philanthropy and
foreign governments, the majority (61%) of Writers' Week costs are underwritten by Adelaide Festival from its budget. With pressures on the Festival's own budget ever-increasing, we hope to boost direct contributions from our audience and supporters via this Donor program.
The Writers Week Donor Circle, also known as The Literati, will come together to support three main aspects of the Adelaide Writers' Week.
Provide funding for the attendance of an international author
It costs on average $10,000 to bring a world-renowned author to Adelaide to be present at Writers Week. With Government support shrinking and running costs increasing, the need for your philanthropic support is more important than ever.
Encourage Young Readers
Adelaide Writers' Week is committed to young readers through its Kids' Day and focus on Young Adult (YA) Fiction. As well as its focus on stories and writing, the program for junior readers includes immersive activities in publishing and printing. The Story Tent program includes performance-based storytelling alongside authors and illustrators who share their work with children aged 1 – 11 years old and special guests who read their favourite children's story. The YA Day, introduced in 2019, caters for the burgeoning "tween" and teen readership, and also features the passionate spoken-word performance platform, Hear Me Roar.
Keep It Free!
Adelaide Writers' Week is one of the few free literary festivals anywhere in the world. Adelaide Festival is particularly proud of this but, with a budget of over $1.3 million to raise annually, it is increasingly difficult to resist the pressure to charge for access to the Gardens. Our commitment is to maintain this level of access for the future. Your support will help us build on the unique tradition that sets Writers' Week apart and makes it one of the most beloved events on our community's calendar.
_____________________________________________________
Your support
$10,000 will get an International author to come to Adelaide Writers' Week
$5000 will help us keep the Gardens open in the evening – including extra lighting – and make the Twilight Talks possible
$2000 will pay for a Stage Manager to run the West Stage so efficiently, keeping us to our tight schedule
$1000 will bring a Story Trove story to life through imaginative play, improvisation and sound, inspiring and surprising children of all ages
$500 will pay for one Chair to expertly wrangle conversations
Every contribution over $2 to The Literati is fully tax deductible.

To join the circle and support Adelaide Writers' Week with a donation, download the form.
For more information please contact Bernadette Woods, Philanthropy Manager, on philanthropy@adelaidefestival.com.au or 08 8216 4478.