October 29, 2019
The 60th anniversary Adelaide Festival program announced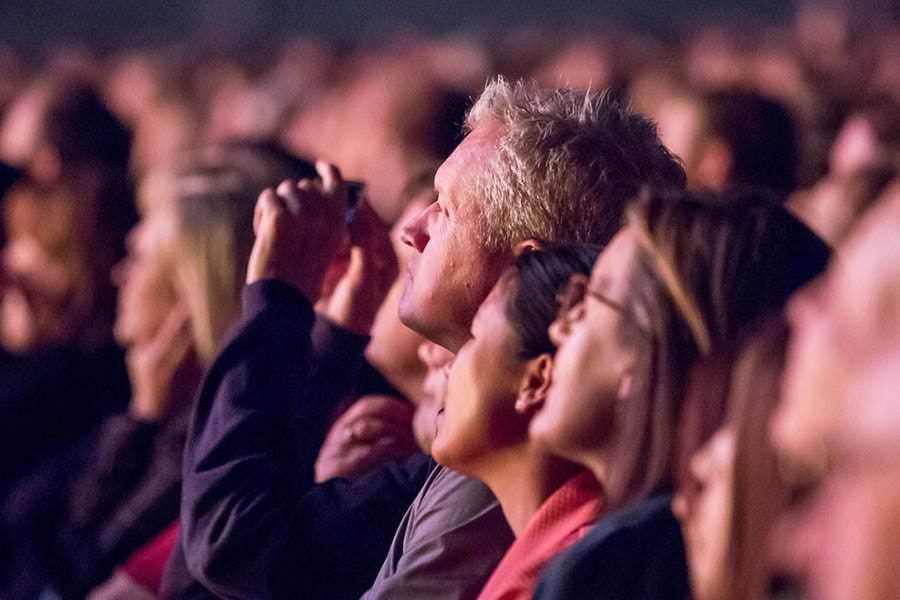 74 events, 16 Australian premieres, 7 world premieres
The 2020 Adelaide Festival program launched on Tuesday 29 October 2019 at Bonython Hall, reaffirms the Festival's reputation as one of the world's great festivals and its pre-eminence in Australia, 60 years after its debut in 1960.

AF20 offers a total of 74 events in theatre, music, opera, dance, film, writing and visual arts – with uniquely local festivals-within-the-Festival Adelaide Writers' Week, Chamber Landscapes at UKARIA and WOMADelaide returning – over 18 days from 28 February to 15 March.

16 Australian premieres, 7 world premieres and 19 events playing exclusively in Adelaide will establish this 35th Adelaide Festival as a cultural benchmark in a very special year which also celebrates the 30th anniversary of the Adelaide Biennial of Australian Art – along with the 250th anniversary of the birth of Beethoven, whose works inform four major events in the 2020 program.

Adelaide Festival – 60 Years, a landmark commemorative book, will be amongst the titles launched at Adelaide Writers' Week.

Steven Marshall, Premier of South Australia, said:
"2020 represents a major milestone for South Australia's own nationally and internationally-acclaimed Adelaide Festival. This year we celebrate the Festival's 60th anniversary and welcome the very best artists from around the world, across the country and from our own community. Our Festival's well-earned, world-wide reputation for delivering exceptional and memorable experiences for visitors, provides a valuable opportunity to showcase all our festive city offers. I congratulate Neil and Rachel on creating and delivering this superb 60th anniversary program. Thank you to the thousands of organisers, participants, patrons and spectators who, since 1960, have made this uniquely South Australian event such a success."
Festival Artistic Directors Rachel Healy and Neil Armfield on…
Why their fourth Adelaide Festival is special:
"Over 60 years Adelaide Festival has forged a reputation as a catalyst for muscular relationships between artists and audiences. It has provoked, enraged and thrilled its audiences and has harnessed the city's curiosity and openness to the unexpected. Over six decades countless creative moments from the hearts and minds of the world's finest artists have been imprinted on the cultural memory of generations of Adelaide residents and visitors. 60 years of the Adelaide Festival is but a heartbeat in the life of the millennia-old wisdom of the Psalms and the poetry of The Iliad – texts which drive one massive, city-wide choral event, and one intimate spoken-word theatre piece, just two of 74 events in our 2020 program."
"In the 'birthday spirit' we wanted to give gifts back to the city, to the people who have nurtured our Festival over six decades and those who will reimagine it again and again through the next 60 years. The 2020 Festival will be the most accessible yet, with significant enhancements to our discount ticket schemes and educational programs – and by offering many free-admission activities.
Looking to those next 60 years and beyond, we are proud to announce that the Adelaide Festival is the first major arts festival in Australia to achieve certification as carbon neutral. This is one of those 'really useful' birthday gifts – a vital contribution to a future that we want our children to inherit.
In planning the 2020 program, we have searched the globe looking for works of great scale and delicate intimacy, works that play to the heart and the mind, which suggest ways forward for both the artform and the species. We hope that in the midst of noise, distraction and hype, the Adelaide Festival's 2020 program is a source of transformative creative experiences for Adelaide audiences and all its visitors."
Main attraction of the free opening event will be Australian all-round talent, actor/song-writer/comedian and globally acclaimed musician Tim Minchin. The free birthday concert – complete with fireworks – will be held in Elder Park on the evening of Saturday 29 February.



Other News