February 04, 2020
All you need to know on the free opening concert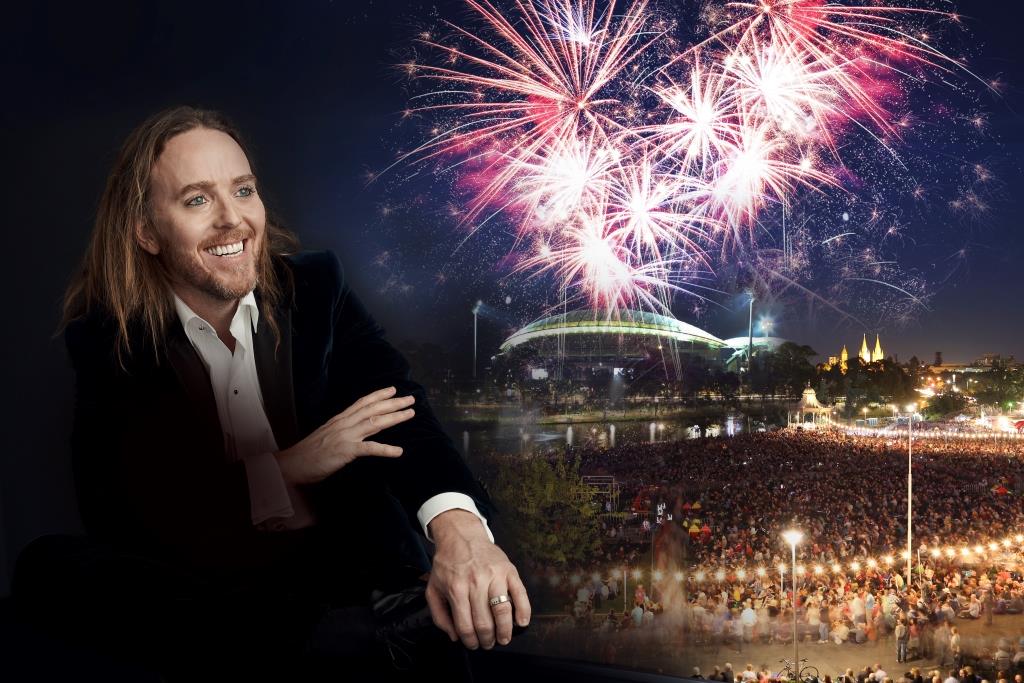 The Adelaide Festival 60th Birthday Concert is a free, licensed outdoor event.
Large crowds are anticipated, so make sure you head to Elder Park early enough to secure your spot on the grass.
Is it appropriate for my kids?
If you know the words, you can choose to cover the kids' ears at judicious moments... otherwise it's probably a good idea for it to be a grownups night out.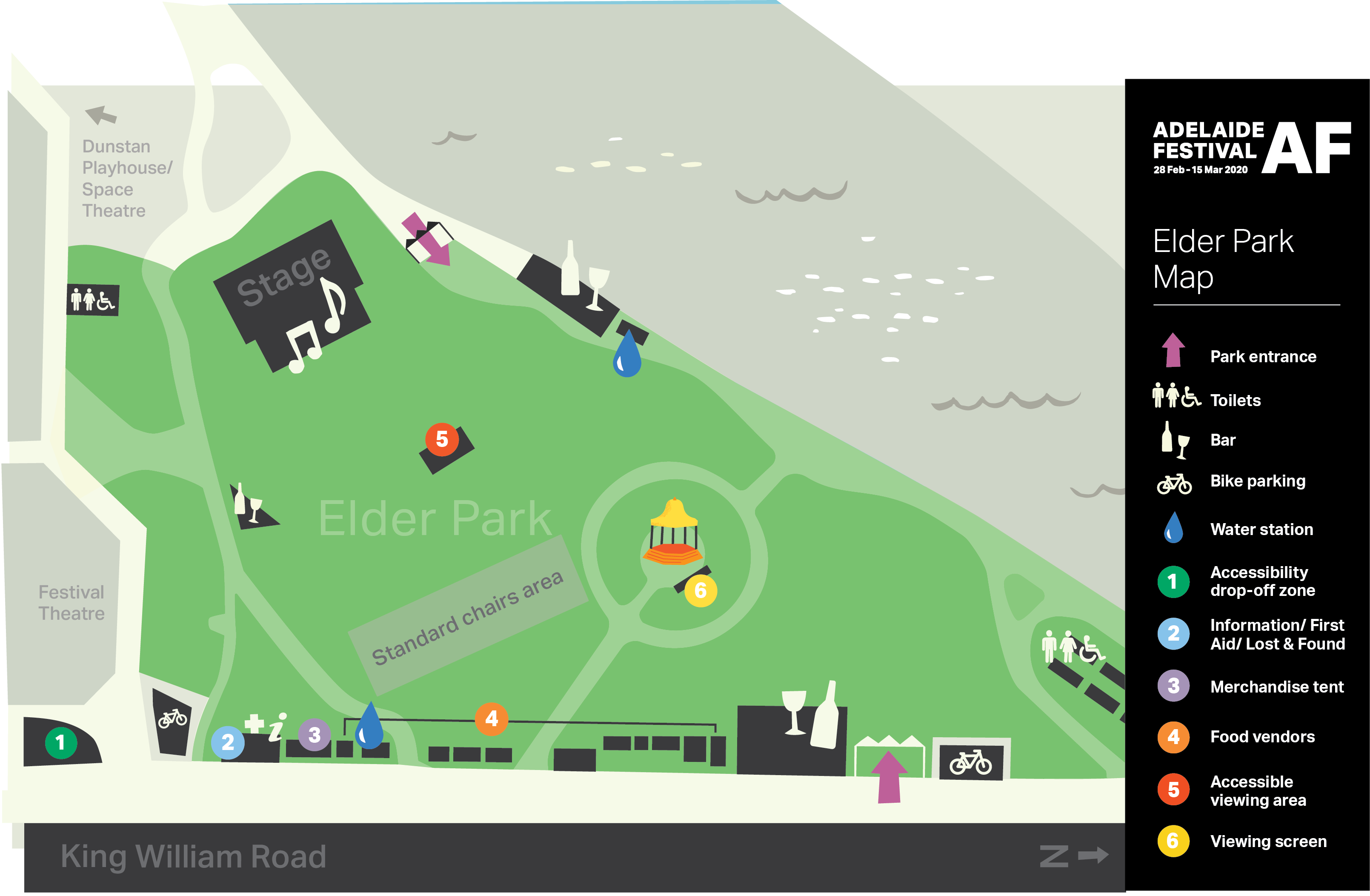 Can I buy tickets on site?
This is a free event, so there will be no ticket sales.

What time should I get there?
Gates open at 5pm, concert starts at 8pm. We suggest you plan on arriving early as big crowds are expected and we may not be able to accommodate everyone who wants to enjoy the performance. Please keep an eye on all Adelaide Festival social media accounts and website for updates on current capacity to avoid missing out.
How long is the concert?
The concert runs for 2 hrs 30 mins. There will not be an interval.
Where can I enter the event?
There are two entrance gates. One on King William Road (adjacent Victoria Drive). The other on the Riverbank, near the foot bridge.
Is it an accessible event for people with disabilities?
A cordoned off accessible viewing area will be made available for patrons in wheelchairs and we provide an allocation of chairs for companions.
An Auslan interpreter will also be available during the entire concert in this area.
To help gauge companion numbers, we are keeping a register of those enquiring to use the accessible viewing area, so please feel free to let us know via email if you intend to join us. Please note that limited seating is provided. Please ensure you arrive early and make yourself known to Front of House staff should you wish to use this area.
Is there an accessibility Drop off zone?
Yes. The Adelaide Festival Centre Accessible Drop-Off Point (the horseshoe area) situated off King William Road, at the corner of Festival Plaza. Please see the Elder Park Map for more details. 


Are toilets available on site?
Temporary toilets (including access toilets) will be available on site, as well as the public toilets next to Alure.
Is there any catering/food/drinks?
There will be bars and a variety of quality catering on site:
Food and drinks will be available for purchase from 5pm until the end of the concert.
Reusable water bottles are permitted but glass or aluminium cans are strictly not allowed on site. There will be two free water refill stations available onsite.
No BYO alcohol please.
If you are an RAA member, bring your card and show it to the bars to get 10% off your drinks during the event.
Is there an ATM on site?
There are no ATMs in Elder Park. Please note our bars will be cashless, and cashless payments at all other vendors will be preferred.
Is there first aid on site?
There will be dedicated first aid on site for the event as well as security to ensure a fun and safe experience for all guests. Chat to our Front of House staff if you need anything during the event.
What if I lose something during the event?
There will be an information booth on site which will also act as a lost property point and a missing and found person's location.


Please be prepared to participate in a bag search upon entrance. If you travel light and have no bags with you, you will enter quickly.

What am I NOT permitted to bring in?
- Umbrellas, tents or sunshades (unless weather is forecast to be 36 degrees or over – see Weather section)
- Alcohol, drinks in glass or aluminium cans
- Bikes (not inside the event but parking is available outside)
- Pets (only guide and assistance animals permitted)
 - Professional standard still or video cameras, audio recording devices and tripods

Any recording, photography or filming of the performance is prohibited.

WEATHER
Extreme Heat
In case of temperatures over 36 degrees or over, temporary shades will be permitted in Elder Park but the use of tent pegs is strictly prohibited. All temporary shades must be dismantled at 7.30pm.
We also encourage that you take all precautions that you normally would during extreme heat – Slip, Slop, Slap and keep hydrated.
Will the concert go ahead if it's raining?
The concert will go ahead rain or shine. In the case of severe weather, please check adelaidefestival.com.au at 4pm on the day of the performance for final weather details in the event of inclement weather.



Check out the Venue information page.

Will there be somewhere to lock my bike?
Yes, we love to encourage cycling to events. Bikes are not allowed in the venue, however bike parking will be situated on King William Road.
What public transport stops are the closest to the venue?
Bus: Bus stop Z2 travelling from South into Adelaide CBD or stop A2 travelling into the Adelaide CBD from the North.
Train: A short walk from the Adelaide Railway Station.
Tram:  Closest stops are at Festival Plaza or Train Station/North Terrace for trams arriving from Glenelg or Adelaide Entertainment Centre.
Driving to the event?
Please note that Adelaide Festival Centre's car park is closed.
Visit UPark to find the closest car park to the venue. We recommend UPark Gawler Place or UPark Topham Mall.
Other News